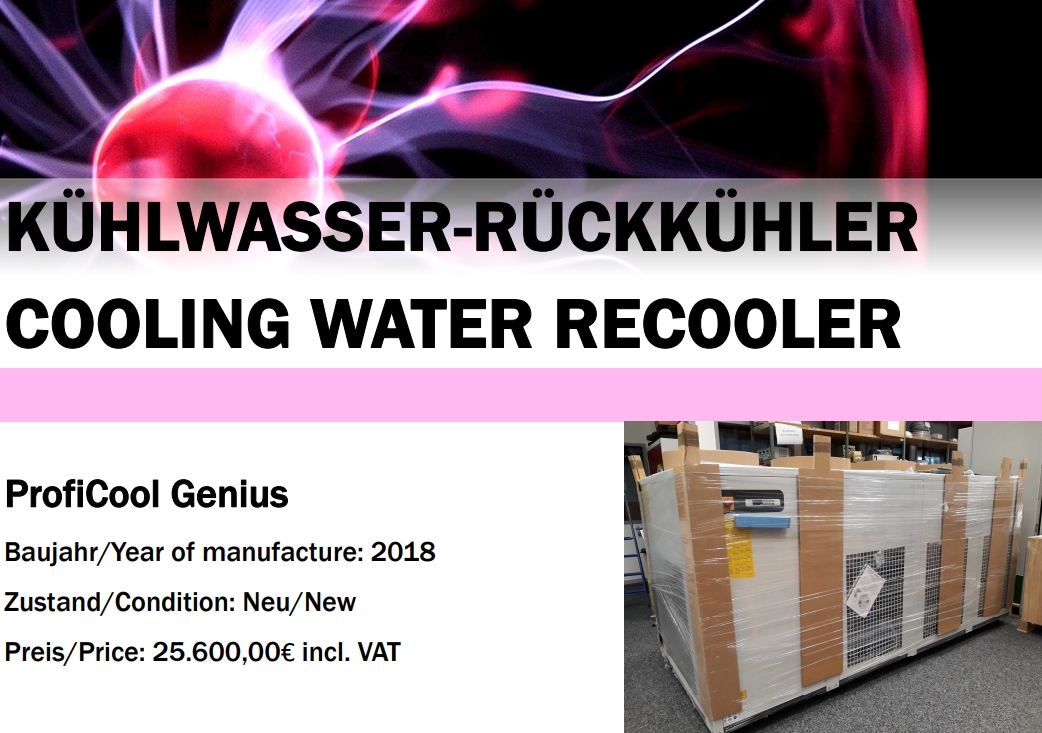 Our quotation for a cooling capacity of 113.2 kW at +20°C cooling medium outlet temperature and +32°C ambient temperature:
GUPCGE1200.01-NEB-System – 1 piece
ProfiCool Genius Cooling Water Recooler
———————————————————————————–
consisting of the following items:
*GUPCGE1200 – 1 piece
ProfiCool Genius PCGE 1200 Cooling Water Recooler.
3-phase mains connection
*MPCGE6-001-1200 – 1 piece
Hydraulic design – single-circuit system with tank
*MPCGE6-P8-AP09B-1200 – 1 piece
Pump P8-AP09B instead of pump P3-AP04B.
Piped and connected ready for operation.
Stainless steel.
Mains connection: 400V/3Ph/50Hz ±5%.
*ZPCGE6-041-1200 – 1 piece
Overflow valve. Brass material. Integrated.
*ZPCGE6-060-1200 – 1 piece
Manometer, 0-6 bar, for water pressure indication
*MPCGE6-040-1200 – 1 piece
Complete isolation of the water circuit
*MPCGE9-002-1200 – 1 piece
Refrigeration design Refrigerant R407C
*MPCGE9-009-1200 – 1 piece
Condenser, air-cooled
*MPCGE9-049-1200 – 1 piece
Axial fans, low-noise
*MPCGE2-001-1200 – 1 piece
Electrical configuration 3/PE AC 50Hz 400V ±5% for
three-phase current / four-wire system.
*ZPCGE2-018-1200 – 1 piece
Electronic governor with digital display
Type: Dixell IC260L V0.9
*ZPCGE2-001-1200 – 1 piece
Collective fault signal Faults that occur are
routed potential-free to the terminal and can thus
be processed externally.
*ZPCGE2-054-1200 – 1 piece
Remote control For switching on and off via the consumer. Switches off the cooling, fan and pump. 2 contacts on terminal strip.
*MPCGE7-003-1200 – 1 piece
Installation package for ambient temperatures <+10°C to max. -15°C (other temperatures on request)
Consisting of speed-controlled fan, protection against low pressure faults and additional oil heating for compressor.
CAUTION! Glycol additive (ETHYLENE-GLYCOL!) of 34% vol. mandatory. For outdoor installation, a weather protection roof must be provided on site to protect against rainfall.
*MPCGE5-077-1200 – 1 piece
Standard paint finish in RAL 7035 (light grey) Structure: orange peel
*YPCGE6-008-1200 – 1 piece
Flow monitoring by means of differential pressure switch.
Alarm signal when the minimum volume flow is not reached (see data sheet).
Alarm signal can be tapped on contacts.
Alarm switches the unit off.
*YPCGE8-038-1200 – 1 piece
Labelling in internationally comprehensible symbols
Enclosed with the unit:
2 BPCGEGEEN-10-02-23   Documentation
German / English on CD-ROM
For ProfiCool Genius. As of 23/02/2010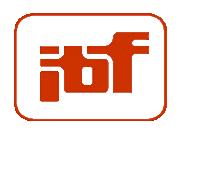 IBF ELECTRONIC GmbH & Co. KG
DR.-ROBERT-MURJAHN-STRASSE 12
64372 OBER-RAMSTADT
TEL.: +49(0) 6154/5755-0
FAX: +49(0) 6154/5755-20
E-Mail: info@ibf-electronic.de